Las Vegas
"Avnie and I wanted to give you a special thanks for the awesome job you did at our wedding!!   You rocked out the sangeet night and had everyone up on their feet dancing the whole time at the Cosmo.   The baraat was fantastic and you helped pump in that energy level for an unforgettable trip down Bellagio Drive =)
You were extremely helpful from the day we started talking and we really appreciate all the help you put here in Houston for planning the events and also flying up to Vegas to make sure everything would flow smoothly for the events you were dj'ing and even other ones.
You were easy to work with and prompt about getting back with whatever questions we had.  Also the dances and the program at the sangeet flowed seamlessly with the work you put in with my sister and the MC's.
 Thanks again for everything and looking forward to using DJ Rocky's skills at our next events!!
~ Pankaj & Avnie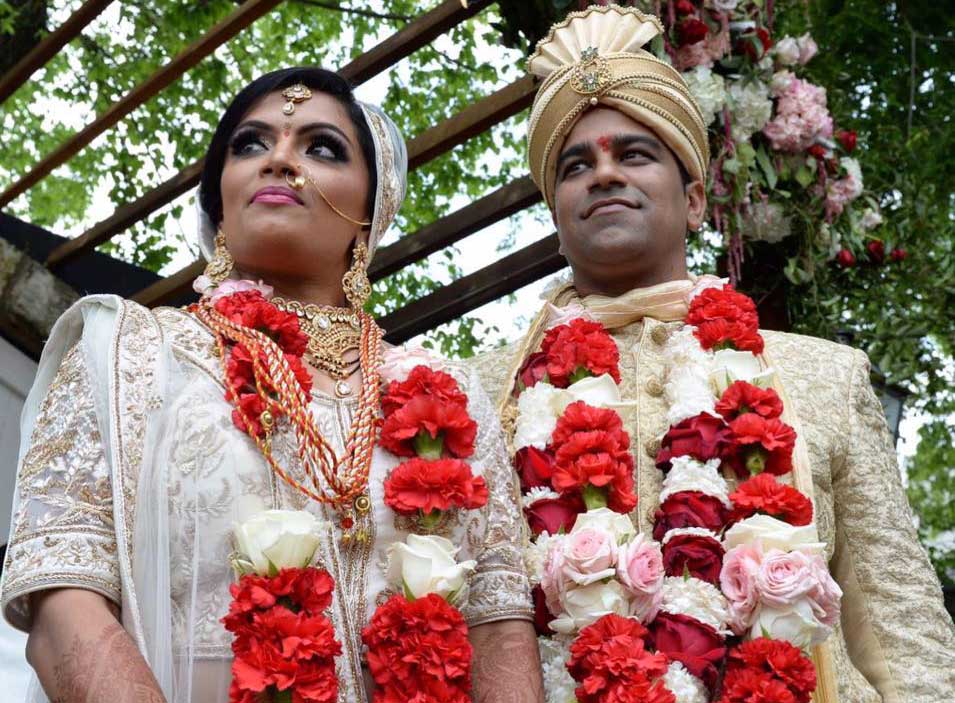 "Rocky, thanks for being the entertainment at my party.  Currently, I'm in Atlanta visiting friends and I am hearing many people tell me they are so happy for me, along with how much fun they had.  The resounding message I have heard from 3 different sources, and I quote:
"Your wedding was a blast.  AND DJ Rocky was the shit!"

"Every wedding needs a "Hype Man" like DJ Rocky.  I just got married last year and wish I had him at our wedding."

"Where did you find DJ Rocky?  Just when I couldn't handle another hour of partying after 3 days.  He made me want to dance."
DJ Rocky: we made the right decision.  I was too busy to recognize everything going on, yet everyone remembered you.  You are a true professional at your craft.  I know this was an Indian wedding, however I know, and my guests agree, you are a true entertainer valuable across all cultures.  Go for it all.  Thanks again!"
~Ajay & Trupti
"I'm so grateful that you were there for our fund raiser benefiting Shadhika.  The energy, love, and heart that you brought to our fund raiser was instrumental in helping us raise the energy of our event and raise funds for the vulnerable women of India.
You were so warm, wonderful and so full of support for our purpose. The energy you brought helped us reach our goal.  You brought a room full of older people and younger people to the dance floor and gave us all a night to remember.  Best of all, you did this all in service of the girls and gave your time and energy for that purpose.
Hope to have you bring your passion and art for all our important events going forward! God bless you – you have planted the seeds of good karma."
~Lata
(NEW ORLEANS)
"Rocky, you did an amazing job!!! You are an extremely talented DJ. The music you were playing was incredible. I love the fusion btw American and Indian. This is one of the main reasons why the party was such a success. We look forward to working with you again in the near future."
Lenny Motwani
President/CEO
ATM Ameritech, LLC
"Great job on DJing for our St Patrick's Day wedding & reception, Rocky.
Camanh and I were very pleased with how the entire day went. Family and guests all had a good time. Your personable touch in getting to know not only us but our parents is a main value add we liked. Keep rocking and we look forward to seeing you at future events."
~ Shankar
"We are re-living the wedding from our pictures and video.
The wedding music was amazing. You got uncles and aunties that normally sit on the sidelines dancing.
What was enjoyable was the range in music. You had something that the uncles and aunties enjoy as well as our friends and cousins.
From English to Indian – the blending was perfect. Never a dull moment.
Everybody has been telling us their feet were hurting from the amount of dancing they did at our wedding. Thanks!!
If you ever need a recommendation, let us know."
~ Mefi
"Thanks so much! You were absolutely amazing.
The sangeet was the best night of my life and alot of the credit goes to you for dealing with my crazy program and making sure the party was crazy!!
You are so awesome! People have been asking for DJ recommendations. Obviously, I have been saying, 'DJ Rocky!' Can I give your email?
Thanks again, you are so awesome!!!!"
~ Niki
"If I could give double the ratings I would! From the moment we met Rocky in the preliminary planning stages, we knew we had to book him quickly! Rocky is a true experienced DJ, he had some awesome and creative ideas.
It is easy to book any DJ for an event, but Rocky sets himself apart because he has PASSION in what he does. He brings his full energy and out of the box personality full force in the baraat and Reception. 10 months have flown by and I still have people talking about the music and the baraat! He also surprised us with a collaboration of live instruments and Old Bollywood songs during dinner.
He created a mini sit down concert which we did not expect. At the end of the night, Everyone chanted "One more song" he continued to play and hype the crowd- if he could play all night he would have, that is the type of DJ he is. We will continue to use ROCKY for any future events. Thank you for being such an extraordinary Talent DJ ROCKY!"